SHRI JAGANNATH MANDIR, TYAGRAJ NAGAR, DELHI
RATH YATRA MAHOTSAV 2019 FROM 5 JULY TO 15 JULY 2019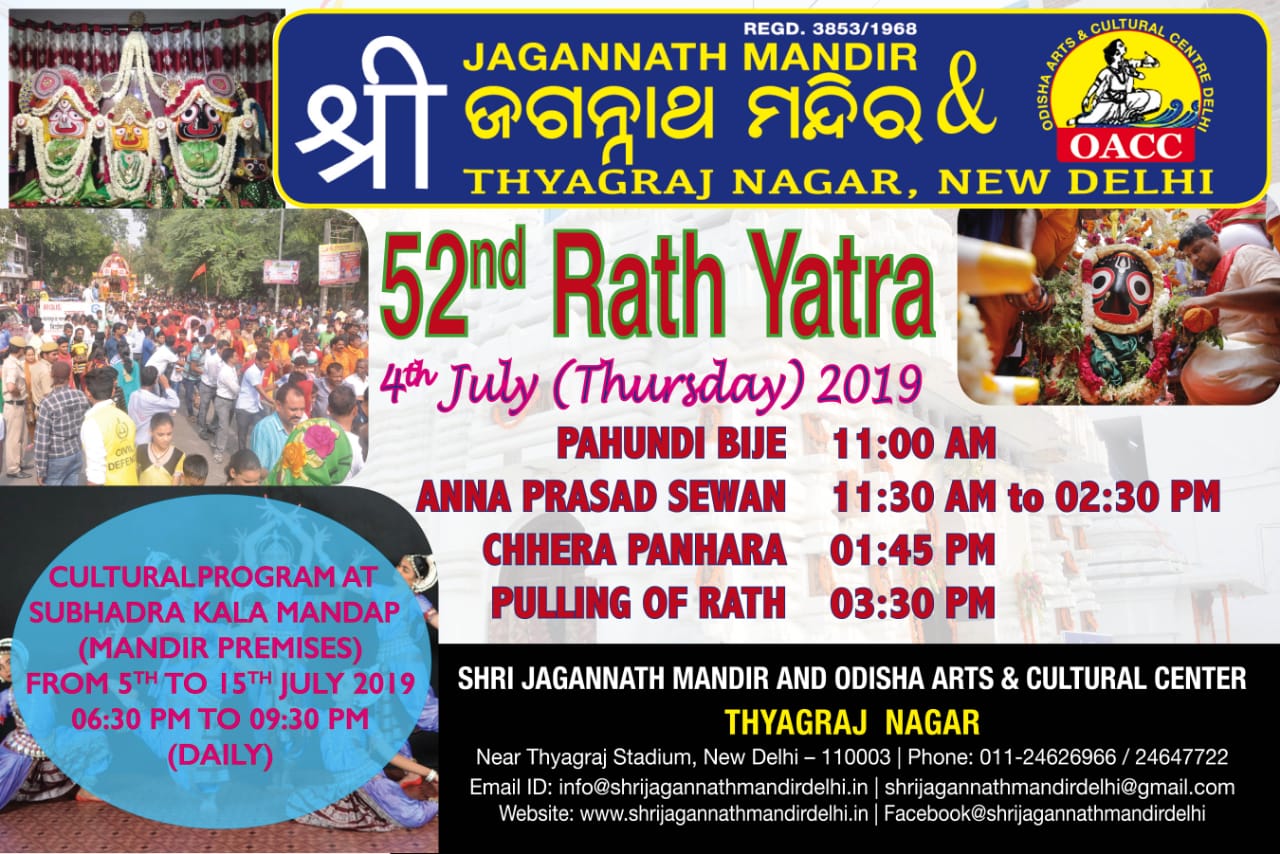 Lord Jagannath is the Lord of the Universe and is the Manifestation of Divinity in the present 'Kali Yug'. It is said that only through "Nama Japa" one can pass successfully through the most difficult period of present 'Kali Yug'
The uniqueness of Rath Yatra of Lord Jagannath is that the Lord Himself comes out of His Shrine to give 'Darshan" on the Rath to His devotees/ followers without making any discrimination on the ground of religion, place of birth, caste, creed and sex. This is the most sacred festival which is celebrated originally in Puri Shrikshetra, but since it is not possible for everyone to visit Puri on the day of RathYatra, we, at Shri JagannathMandir, Thyagraj Nagar, New Delhi for the benefit of the devotees like you, organize and celebrate this Mahotsav in the same spirit, fervor and gaiety.
Like previous years, this year also the Mahotsav starts from 04.07.2019 (Thursday) and will conclude on 15.07.2019 (Monday). Pahundi Bije of Chaturddha Murti, Darshan of Lord Jagannath at Rath, Pulling of Rath by devotees, Anna bhog Prasad, Bhajan & Kirtan near Rath are the main attraction on the day of Rath Yatra journey. This journey will start on 04.07.2019 in front of Thyagraj Stadium Gate no-1 at Shri Jagannath Marg and will cover a distance of about 3 km. via Safdarjung bus Terminal, Vikas Sadan, INA Market, Kashmiri Market, Consumer court, Rajya Sabha Secretariat Residential Complex and back to Mandir and the Deities will go to Gundicha Mandir (Mausi Maa Mandir) where they will stay till 12.07.2019 (Friday).
Every day attraction will be the colorful cultural program depicting various facets of Indian culture at Subhdra Kala Mandup of the Mandir from 6.00 pm onwards and with the opportunity to have Prasad after the program from 05.07.2019 to 15.07.2019. In order to enhance excellence and the spirit of competitiveness, there will be a number of competitions to be organized among ladies (SRESTHA ODIANI) and for children.
RATH YATRA MAHOTSAV 2018 FROM 14 JULY TO 25 JULY 2018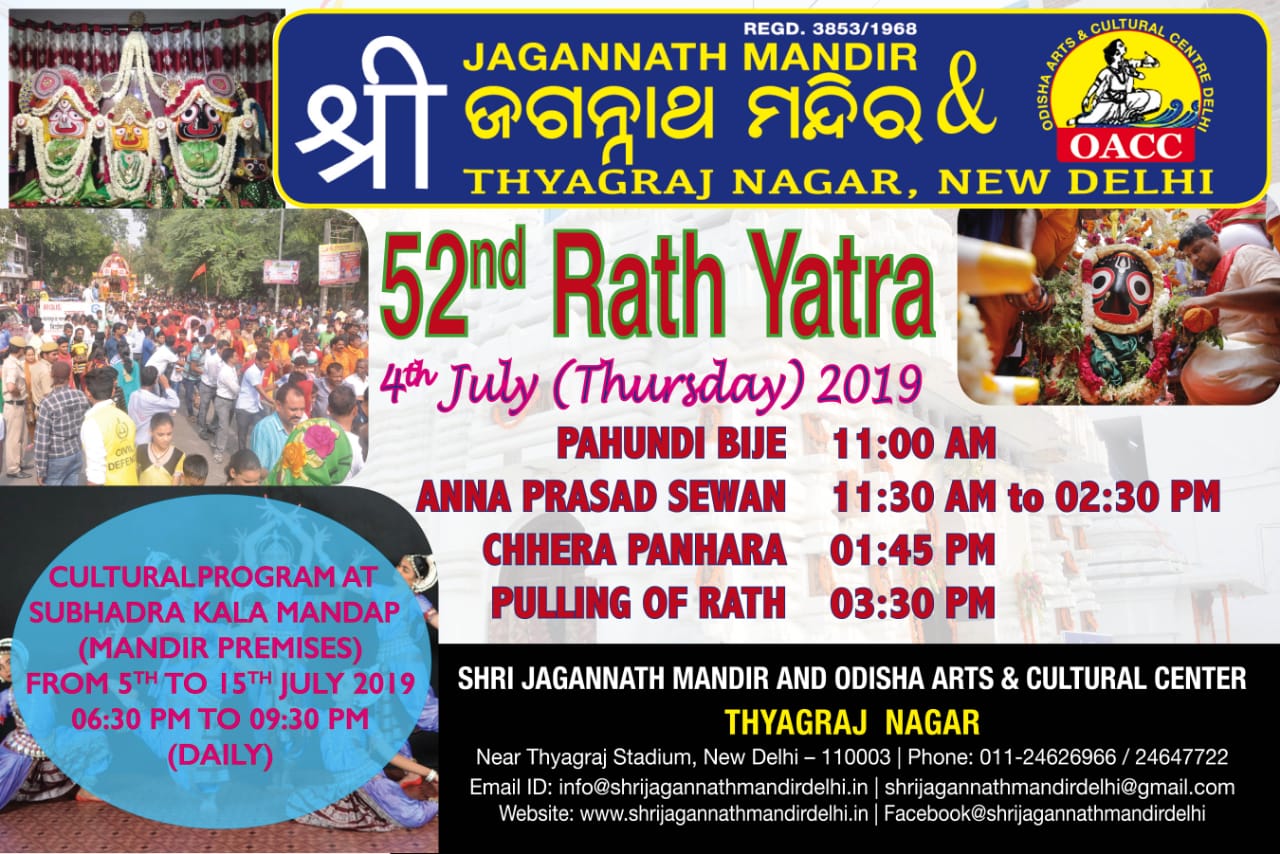 Rath Yatra at Shri Jagannath Mandir
25th June – 6th July 2017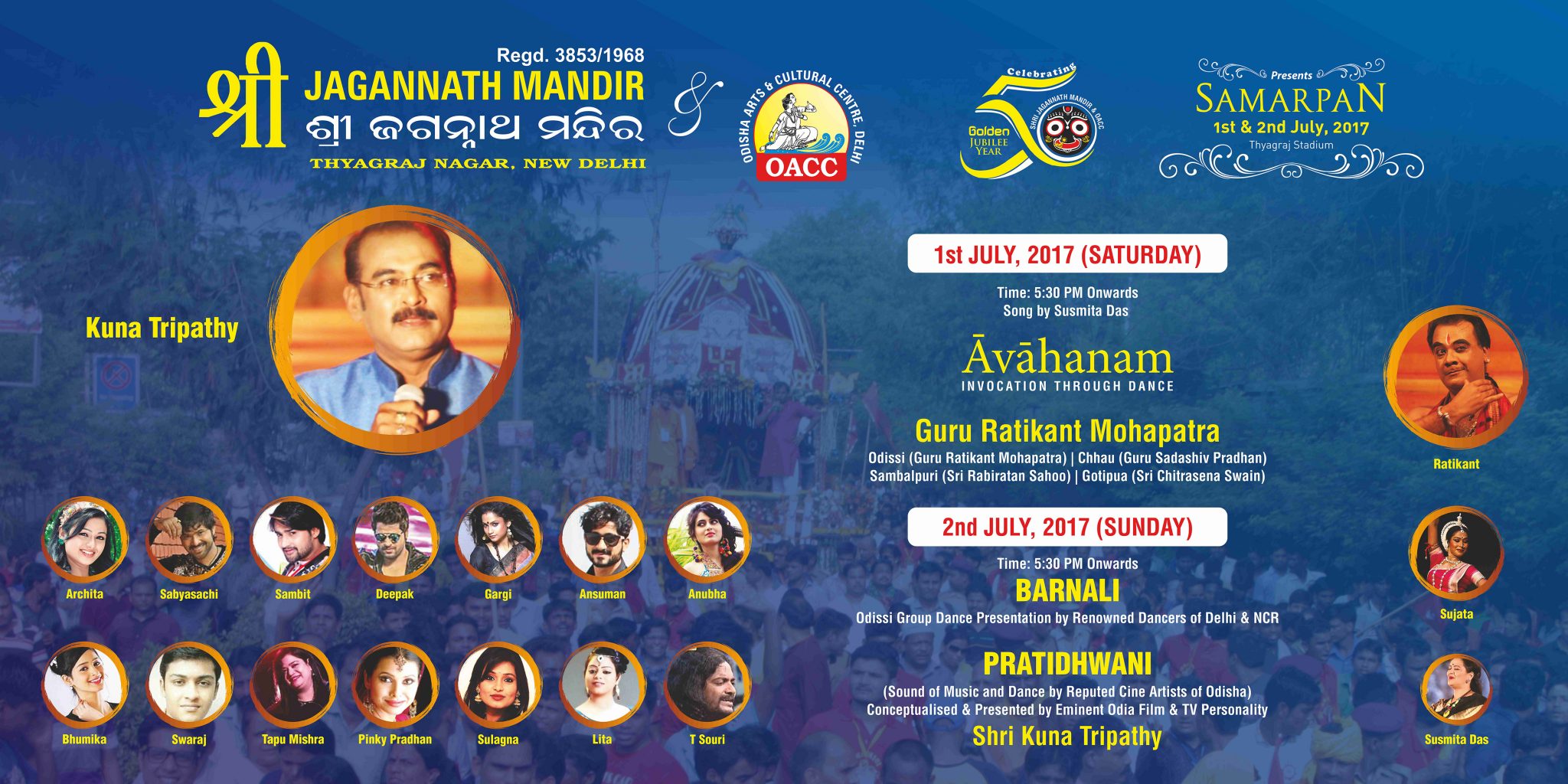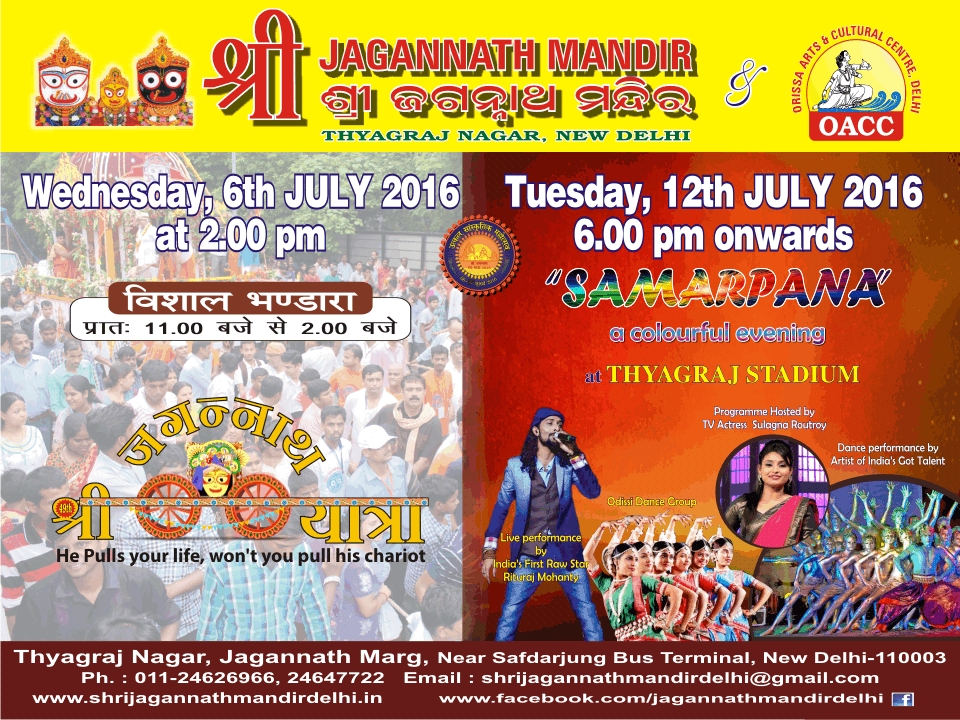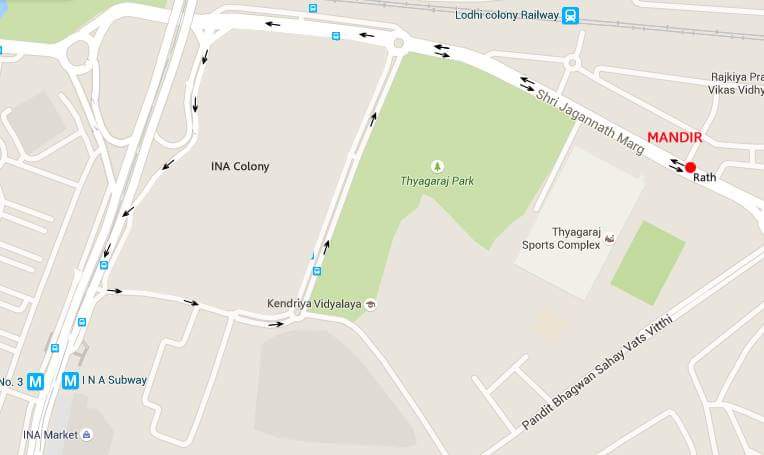 Rath Yatra 2016 Preparation