SHRI JAGANNATH MANDIR DELHI welcomes you
Welcome to Shri Jagannath Mandir, New Delhi, Thyagraj Nagar,. This is centrally located in front of Thyagraj Nagar indoor stadium just one K.M, away from INA Metro Station, adjacent to Safdarjung Bus Terminal and Lodi Colony Ring Railway station. 
You are a devotee of Lord Jagannath, you love Him and seek His blessings. You have no spare time to visit Puri for His Darshan, You may belong to any caste, creed, sex, community, religion- wheresoever may be your place of birth, whatsoever be your language and whatsoever be your nationality. Does not matter, This is enough that you are a devotee of Lord Jagannath. 
You want to be associated with promotion of on rich cultural heritage Odissi, Bharatnatyam, Manipuri, Kathak etc. and rich Tradition folk dances of Odisha. You want to be associated with philanthntric activities serving others, mostly under-privileged sections of people. You are interested in research on Jagannath Culture, you are not getting opportunity. You want to avail the services offered by the Mandir society celebrating for Social and family functions. You are an aspiring artist in classical form of Dance, but you are not getting right platform. You are guru on any classical form of dance, music and are interested to impart your teaching to interested pupils. You are aspiring to learn nuances of classical dance, specially Odissi, but are not getting right venue to learn.
You are cordially invited. This Mandir, Shri Jagannath Mandir offers you a lot. Please visit us and give an opportunity to serve you.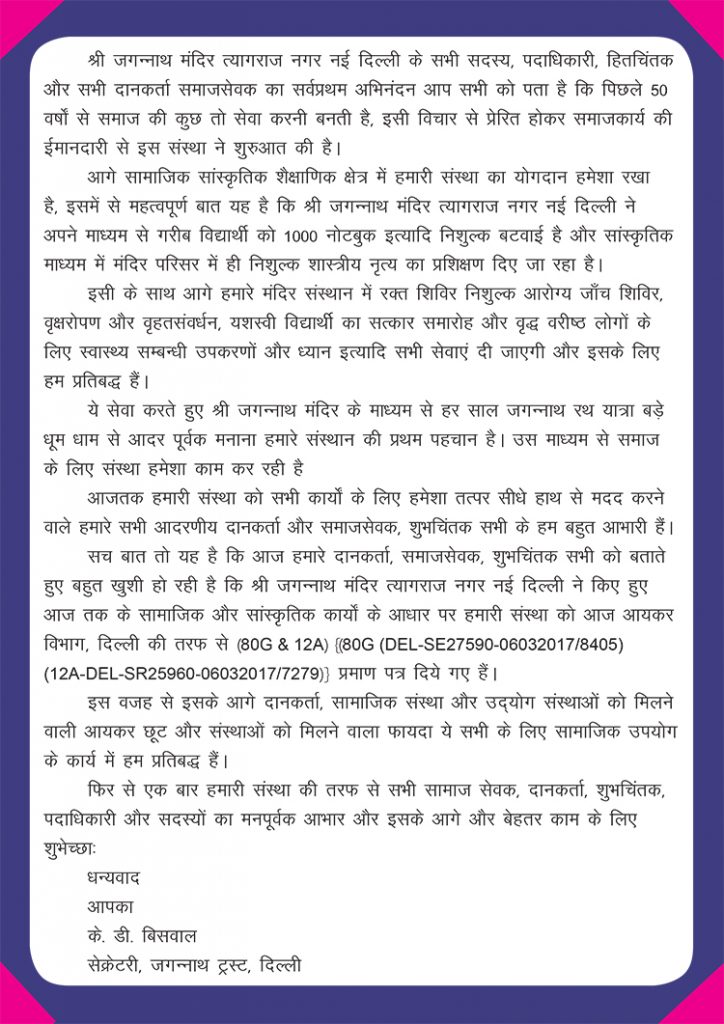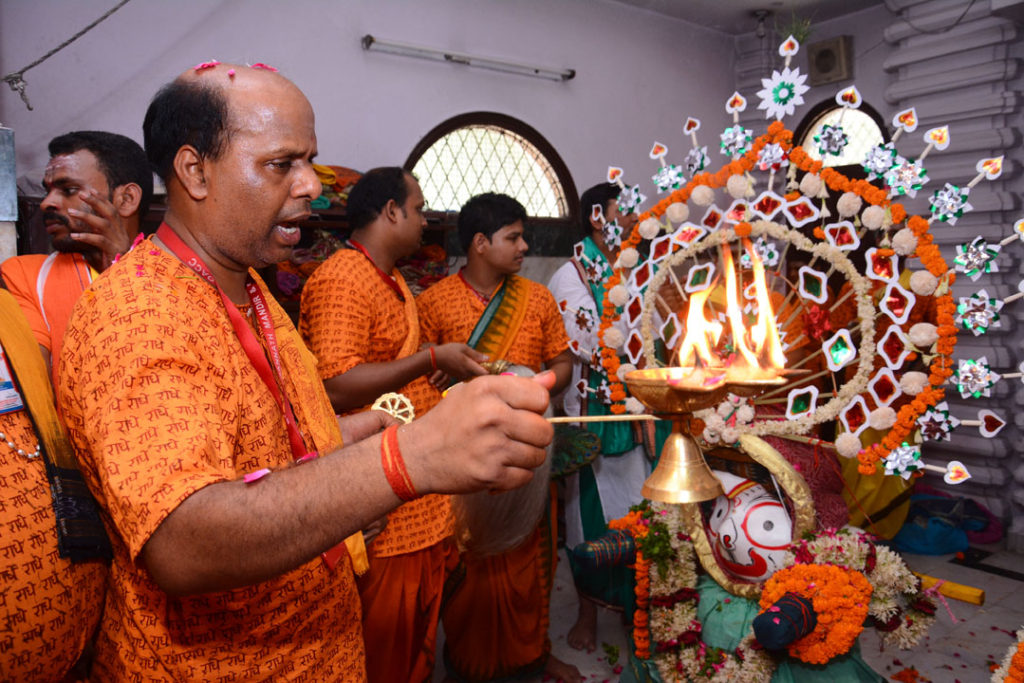 PUJA RITUALS : 
SUMMER (TIME)
From
To
PAHAD OPEN
5:00 AM
––
MANGAL AARTI
5:15 AM
––
ABKASH
5:15 AM
6:00 AM
BALYA BHOG
6:15 AM
 
MANDIR ROSOI GHAR HAWAN
6:15 AM
6:30 AM
SURYA PUJA, DWARPAL HAWAN, GARUD PUJA
6:30 AM
7:00 AM
SNANA, SRINGAR, SOHALA UPCHAR PUJA
7:00 AM
8:30 AM
GOPAL BALLABH, AARTI, PUSHPANJALEE
8:30 AM
9:00 AM
GITA PATH, VISHNU SAHASHRANAM PAATH.
10:00 AM
12:00 PM
BADA BHOG
12:00 PM
12:30 PM

PAHAD FROM 12:30 PM TO 4:00 PM
PAHAD OPEN
4:00 PM
––
AARTI
4:15 PM
––
PANA BHOG
4:15 PM
5:00 PM
VEDA PAATH, SRI BHAGWAT PAATH, STROTRA PAATH
5:00 PM
6:00 PM
SAINKALEEN PUJA
6:00 PM
7:00 PM
SANDHAYA AARTI
7:00 PM
7:30 PM
BHAJAN, KIRTAN
7:30 PM
8:30 PM
SHAYAN AARTI, BHADA BHOG, GEET GOVINDA PAATH
8:30 PM
9:00 PM
PAHAD 10:00 PM
Dhanu Sankranti, Pahili Bhoga
The society has built 18 number of rooms with all modern house keeping facilities for comfortable stay of the pilgrims/guests/near relations of patients coming from far off places and being treated at AIIMS.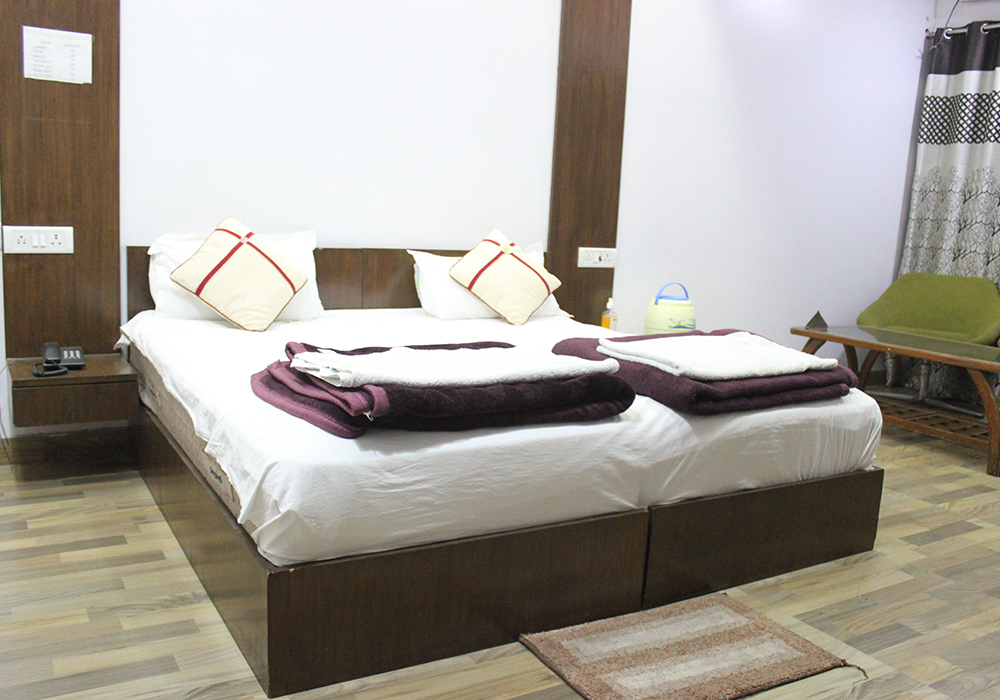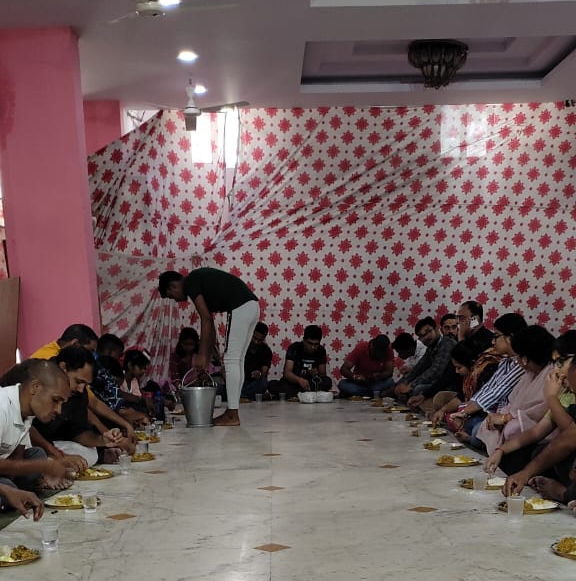 Anna Prasad is a divine Bhog offered to Lord Jagannath twice daily i.e., during lunch and dinner. This sacred prasad contains verity of food like Arna, Dal, Mahuri, Ghanta, Saga, Chatni, Dalma, Kanika, Kheer etc. This Prasad is offered to Maa Bimla first then it is called Maha Prasad. This prasad is prepared in the kitchen of Lord Jagannath by Pandit Ji after (Hawan/Puja) in the morning maintaining proper hygiene.
JOIN SHRI JAGANNATH MANDIR, THYAGRAJ NAGAR, DELHI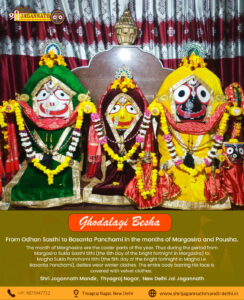 From Odhan Sasthi to Basanta Panchami in the months of Margasira and Pousha. The month of Marghasira are the cooler parts of the year. Thus
Read More »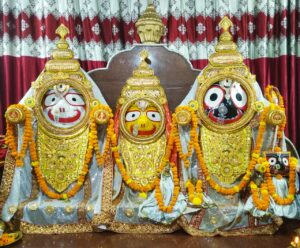 नमामीश्वरं सच्चिदानन्दरूपं,लसत्कुण्डलं गोकुले भ्राजमानम्। यशोदाभियोलूखलाधावमानं,परामृष्टमत्यं ततो द्रुत्य गोप्या।।१।। रुदन्तं मुहुर्नेत्रयुग्मं मृजन्तं,कराम्भोज-युग्मेन सातंकनेत्रम्। मुहुःश्वासकम्प – त्रिरेखाप्रकण्ठ –स्थित ग्रैव-दामोदरं भक्तिबद्धम्।।२।। इतीदृक् स्वलीलाभिरानन्द कुण्डे,स्वघोषं निमज्जन्तमाख्यापयन्तम्। तदीयेशितज्ञेषु भक्तैर्जितत्वं,पुनः प्रेमतस्तं
Read More »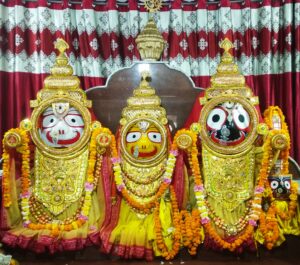 This is stared today(06-10-22) and continue till (03-11-22), fallowed by other besha on Panchuka. Request all esteem devotees to join for damodar athakam patha and
Read More »