November 16, 2022 12:00 am
Dhanu Sankranti is celebrated on the first day of lunar Pousha month. The month of Pousha is considered the month of plenty. After collecting the harvest there is a festival of general rejoicing with special sweets of 'Muan', which is offered to Lord Jagannath in puja.  In the month of Dhanu Sankranti, Gopal Ballav Bhog is offered along with Pahali Bhog. The Pahili Bhog is the traditional morning offering to the Trinity which continues from the Dhanu Sankranti to Makara Sankranti as per the Odia almanac.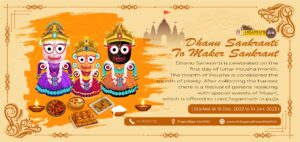 Dhanu Muan and Pahili Bhoga are alse offered Kantilo & Godess Mangala at Kakatpur  . This practice is also observed at Sarepeswar Pitha Athagada . Lord Laxmi Narayan worship also observed at Jaraka during this month . Biswa Shanti Mahayagnya ( Grand Oblation ) also observed at Udash Ashram of Shri Sanjogi Yogi Baba near Chatia for five days long.  Oblation is done at Madhupur Bedha and the hermitage of Muni Baba for the well being of whole universe.
Gopal Vallabh Bhog (Breakfast at 8.30 A M)
The offering is the first one of the daily Prasad to Lord Jagannath. The Bhogs are offered at the Anabsar Pindi.Breakfast is a seven item treat – Khua, Lahuni, sweetened coconut grating, coconut water, and popcorn sweetened with sugar known as khai and curd and ripe bananas.
Vallabh Khai – 44 Oli
Ripe Banana – 7 Nos
Nadia Khudi – 3 Sara
Big Kora – 29 Nos
Small Kora – 220 Nos
Pahili Bhoga ??
First Food offered rather early in the morning. It is a delicious Khechedi preparation. The episode runs that as Mahalaxmi, the divine consort moves to her father's house, Yosoda,the mother of Lord herself prepare this delicious Khechedi to the utmost satisfaction of her son.